Product
MAGIC GLOSS furniture fronts
Universal high gloss elements resistant to moisture and discolouration.
High gloss fronts and furniture elements
MAGIC GLOSS products are characterized by modern design and extraordinary durability. The elements are resistant to moisture, stains and UV rays, so they do not discolour during use. Their great advantage is the ease of care and maintenance. The offer is addressed both to furniture manufacturers and wholesalers of materials for the production of furniture and interior design elements.
MAGIC GLOSS furniture fronts are made on the basis of vacuum pressing technology, during which the MDF board is covered with PVC or PET foil covered with a protective film. As a standard, the left side is finished with a melamine layer.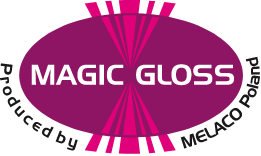 MAGIC GLOSS furniture fronts are available in patterns and colours presented in the catalogue of standard designs. On request, there is a possibility to deliver non-standard designs. Due to growing interest, the offer of films for MAGIC GLOSS high gloss products has been developed with attractive designs in SM (SUPERMATT) finish. In our offer, there is also a special care product ULTRA GLOSS suitable for elements made in high gloss. Do you want to order a sampler? Contact our sales representative.
Examples of the use of MAGIC GLOSS furniture fronts
kitchen furniture fronts,
bathroom furniture fronts,
bedroom furniture fronts,
room furniture fronts.
| | 3D elements |
| --- | --- |
| Base material | One side laminated MDF board |
| Thickness | 16-22 mm |
| Finishing | PVC, PET, polymer film 0.4-0.6 mm thick, covered wih a protective film |
MAGIC GLOSS furniture forms are realized according to the design and parameters given by the customer after prior validation and on the basis of agreements.
Do you have questions? Contact us.
We will be pleased to answer all questions about MELACO's offer, terms of cooperation and orders. Write or call us.
ul. Ciepielowska 9
67-100 Nowa Sól
Poland
Piotr Walczak
kierownik działu sprzedaży
Leszek Niemczynowski
specjalista ds. sprzedaży