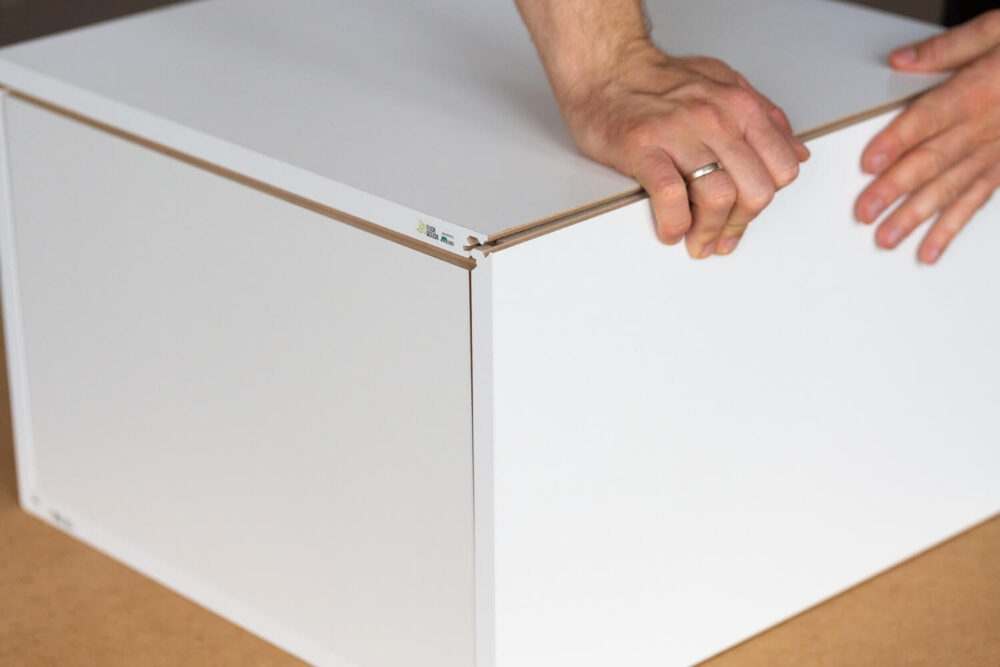 Technology
FLICK&CLICK™
Patented, tool-free technology for click assembling furniture elements without screws and bolts.
Get to know the biggest advantages of our innovative FLICK&CLICK™ system
FLICK&CLICK™ is a patented technology (patent nos. 219311 and 228610) for the production of furniture parts with the THREESPINE™ mechanical locking system. Its secret lies in the simplicity of its assembly. No screws, pins, or tools are needed to assemble the furniture. There are no visible connections or openings that could disturb the esthetic appearance of the furniture.
The word trademark "Threespine" and its logo are reserved trademarks owned by Välinge Innovation AB, and any use of these trademarks is subject to a license.
Unique and modern furniture for intuitive self-assembly
FLICK&CLICK™ allows for two ways of installation. The 5G mechanical connection in four corners is dedicated to the retail customer for self-assembly. The 5G mechanical connection in one corner, and in the remaining corners the use of folding and assembly glue is a solution for products assembled in a furniture factory. Both do not require any special equipment.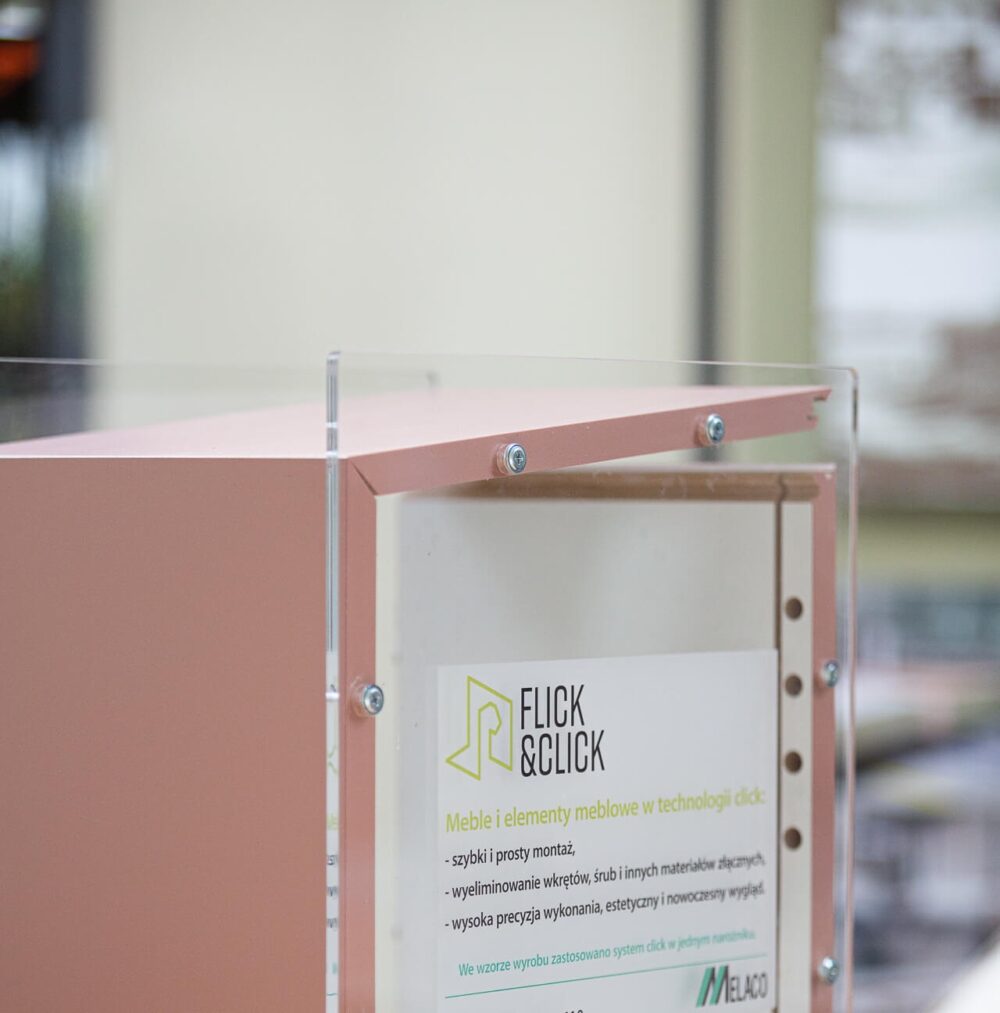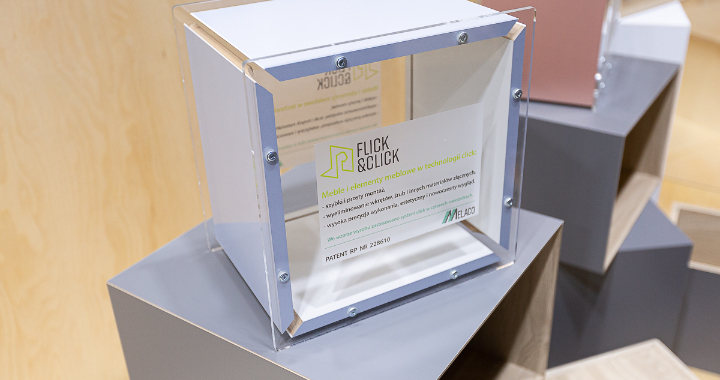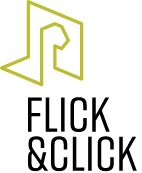 The FLICK &CLICK™ technology guarantees an extremely precise and perfectly coordinated connection of components. The joint edges can be finished with a polymer edge. Depending on the material used (wood-based panel, plywood, solid wood plywood, plastic, laminate), the surface of the elements also varies in finish: from matt and supermatt to texture and high gloss.
Discover the possibilities of FLICK&CLICK™ technology
To show the full potential of FLICK&CLICK™ technology, we have created HOME OFFICE Select, HOME OFFICE 4_you and HOME STORE sets. These are modules that vary in size and appearance, but combine universal use with fast, tool-free installation. For interior architects, they will be an original variety of the project, for owners of furniture shops and wholesalers an attractive complement to the offer, and for furniture manufacturers and designers an inspiration to create new, innovative collections.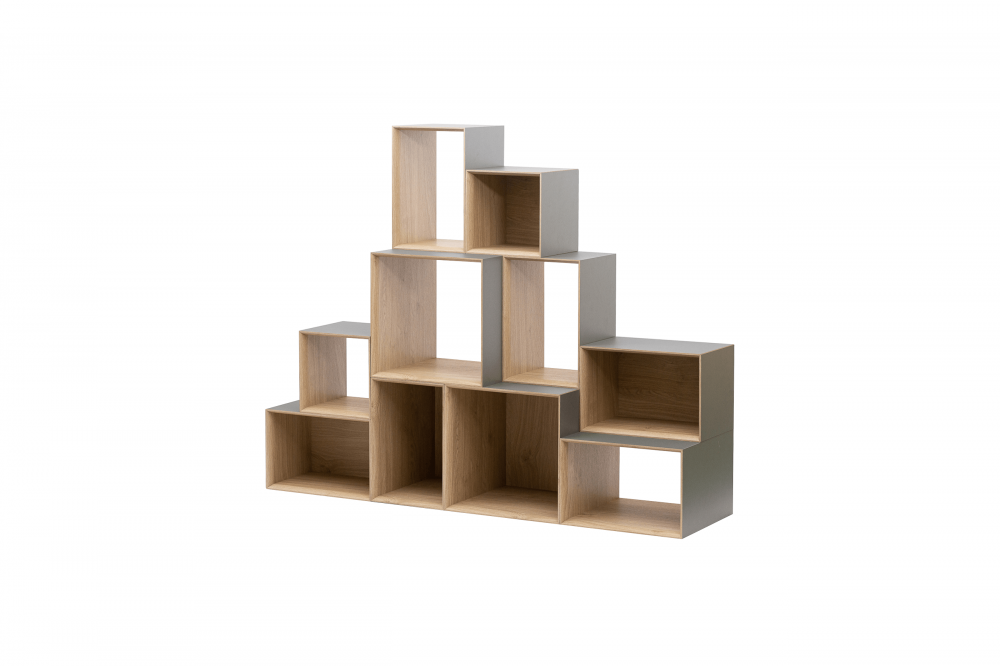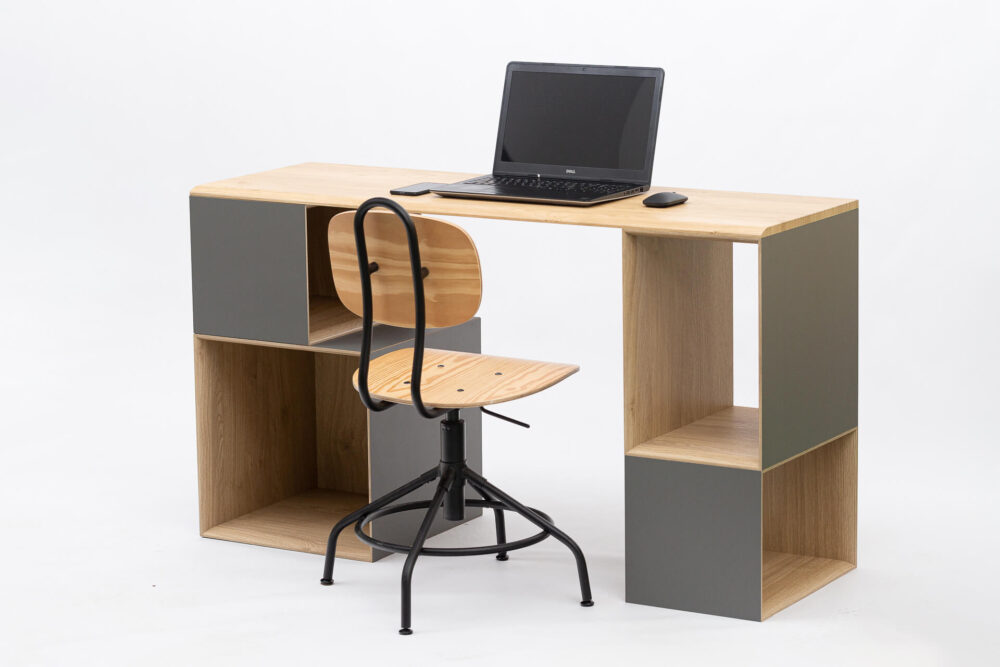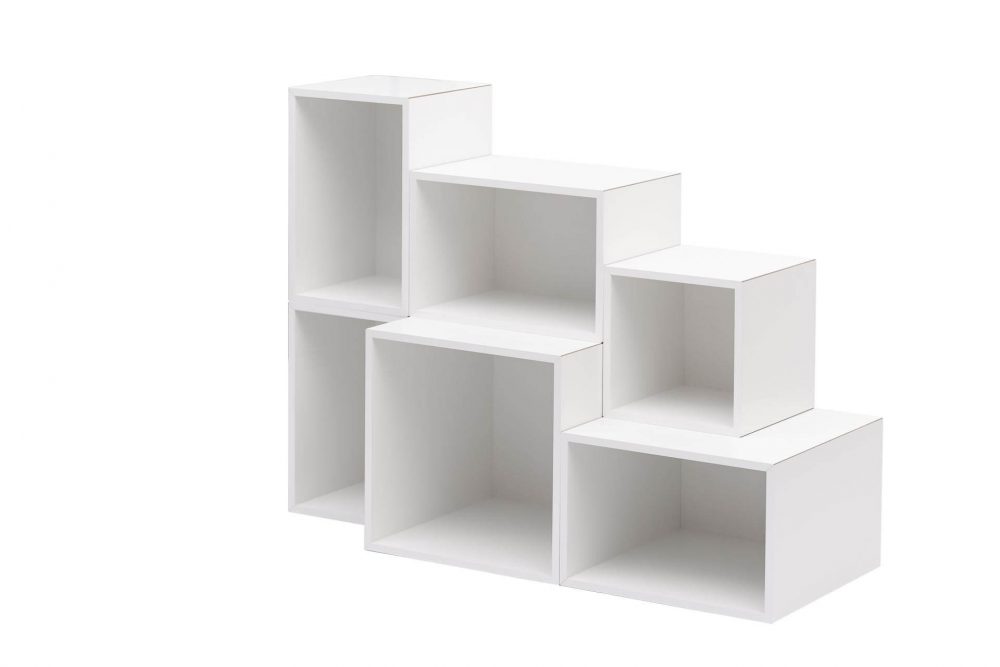 FLICK&CLICK™
HOME OFFICE modular furniture is a table top and several units of different dimensions, which you can freely combine and set up. Thanks to them you can easily arrange your space and create a bookcase, a desk, a partition wall or a coffee table.
Within HOME OFFICE we have created two collections: Select and 4_you. Swipe to the right and see!
FLICK&CLICK™
The distinguishing feature of the HOME OFFICE Select furniture modules is their unique, stylish appearance. The external surfaces are covered with polymer film in WOLFRAM GERY colour in SUPERMATT finish. Inside there is a film with the Natural Kendal Oak pattern with a synchronous wood structure. Narrow surfaces have profiled edges in postforming technology.
See how to arrange your home office with the HOME OFFICE Select collection!
FLICK&CLICK™
HOME OFFICE 4_you modules were prepared in a minimalist version. We have covered the surfaces with a matt white laminate, thanks to which the solids match literally every interior colour. They are perfect for clean, Scandinavian rooms.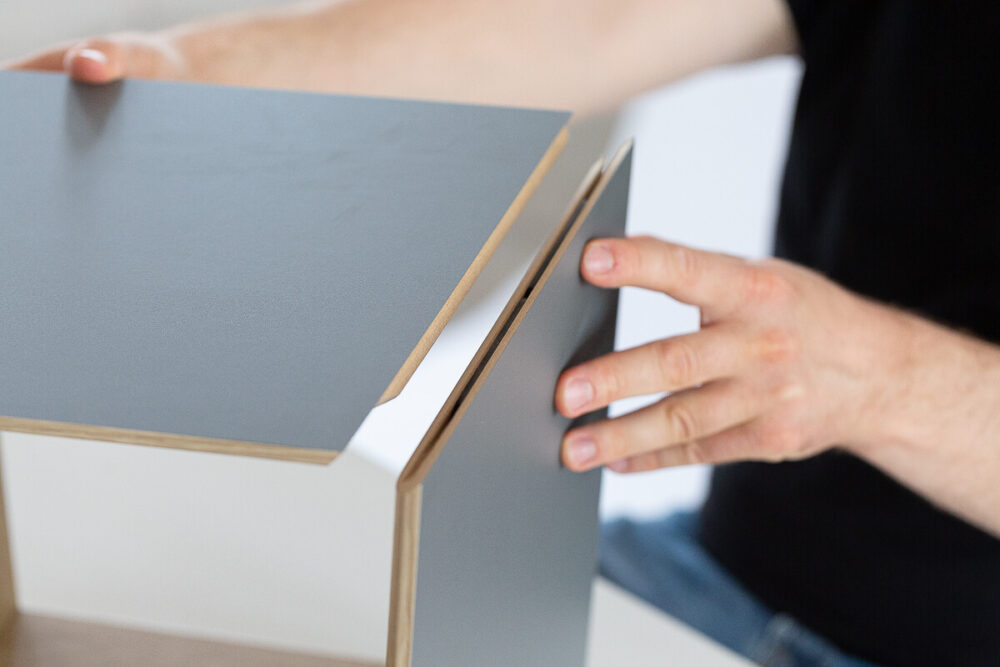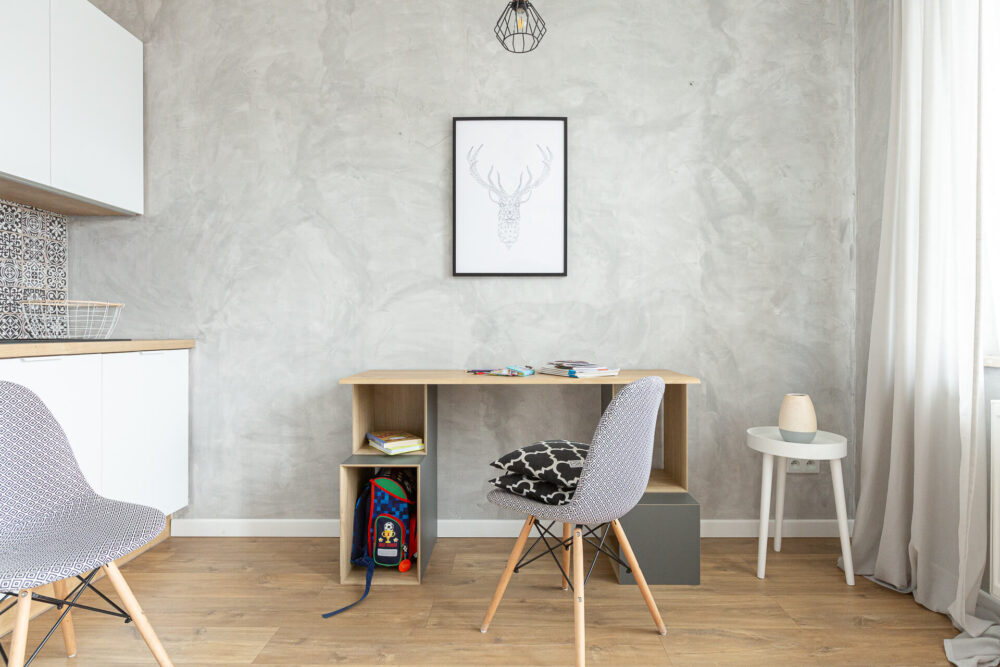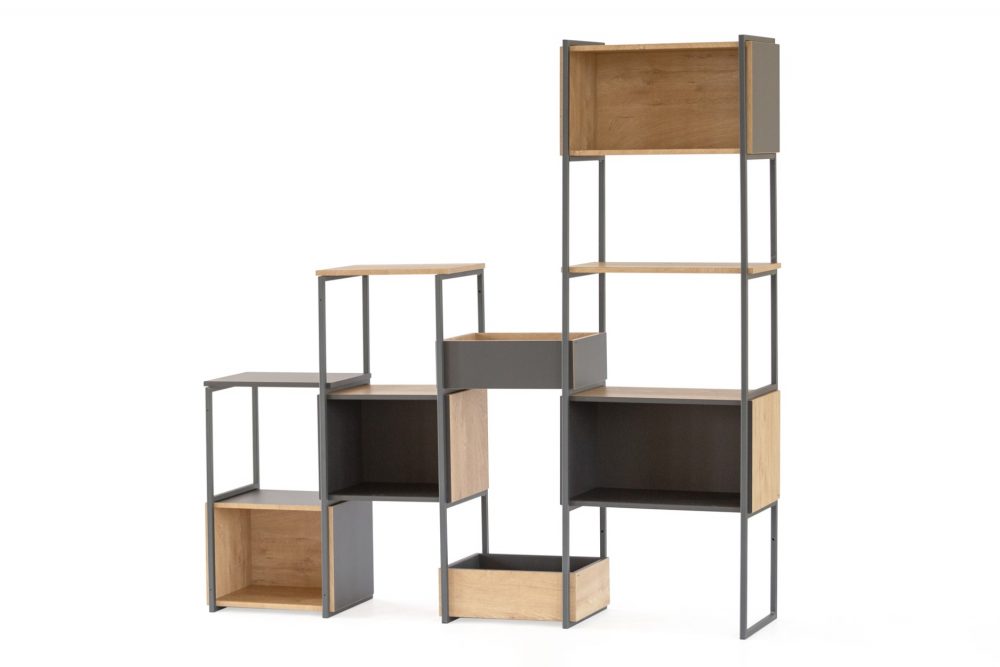 FLICK&CLICK™
HOME STORE furniture modules are a set of blocks and shelves available in several sizes with optional steel racks.
HOME STORE units are finished with Oak Endgrain Pure Synchro foil, similar to that used in HOME OFFICE Select units. This is valuable information especially for interior architects who want to use modules to create an aesthetic and functional interior design.


See our
other technologies
Do you have questions? Contact us.
We will be pleased to answer all questions about MELACO's offer, terms of cooperation and orders. Write or call us.
ul. Ciepielowska 9
67-100 Nowa Sól
Poland
Piotr Walczak
kierownik działu sprzedaży
Leszek Niemczynowski
specjalista ds. sprzedaży